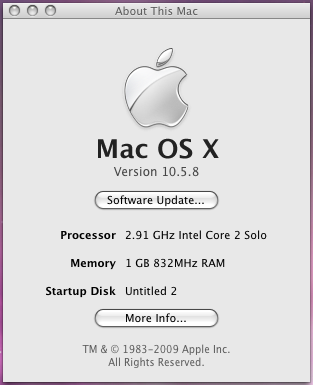 I managed to install Mac OS X 10.5.8 on an AMD Athlon X2 system after little trouble. I'll post the procedure to make sure if I have to do it again I can easily refer and someone trying to do the same can save the trouble. This will be composed of a series of posts, a post per step.
In the mean time find out the specifications of your box. I'm using GIGABYTE GAPM61SME-S2 motherboard with AMD Athlon X2 CPU. If your specifications are just like mine go ahead and download all the files listed bellow, otherwise download 1-3 and then look for kexts for your motherboard.
System specification
AMD Athlon X2 2800
nVidia GeForce 6100/nForce 405 chipset
1 x 2 GB of DDR2 DIMM
On board ethernet (nForce 10/1oo Mbit)
Realtek ALC883 CODEC chip
SATA HDD (nForce sata controller)
USB Mouse
USB Keyboard
DVD Drive
Downloads
iPC OSx86 Leopard 10.5.6 Intel AMD SSE2 SSE3 DVD (Google and find out, you will have to download via Bit torrent)
Mac OS X 10.5.7 Update (http://keti.ws/95282)
Mac OS X 10.5.8 Combo Update (http://keti.ws/95283)
nForceLAN (http://keti.ws/94281)
AppleNForceATA (http://keti.ws/95281)
Steps
Patch the iPC DVD image (Otherwise the DVD will never boot)
Install Mac OS X 10.5.6
Remove all Intel kexts (Improves the boot time)
Install Mac OS X 10.5.7 update
Install Mac OS X 10.5.8 update
Await step 1, Patching the iPC DVD image tomorrow.